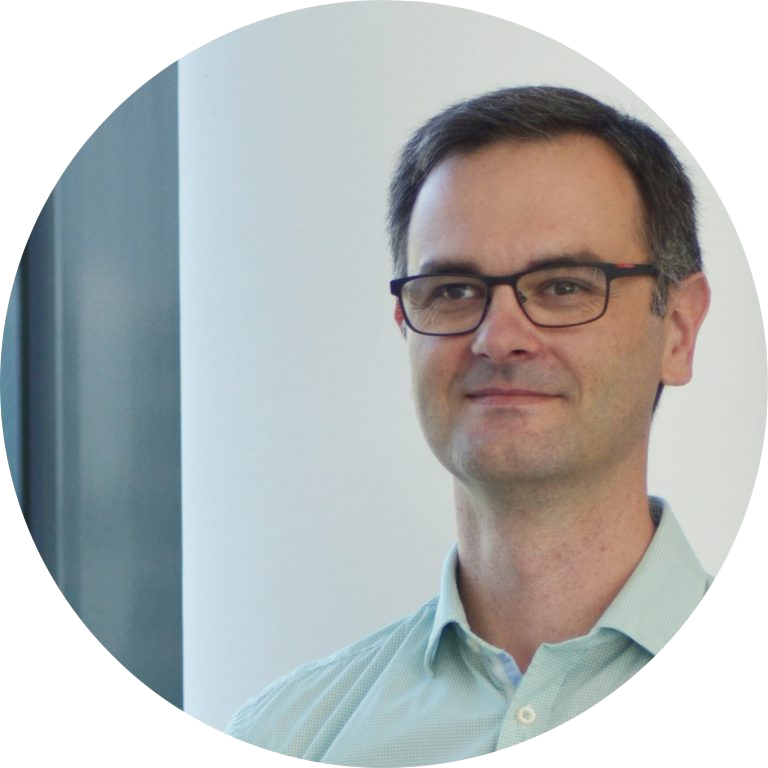 Dr. Humenik, Martin
Open Resume
Hybridmaterialien
Die Anwendung der Prinzipien der Selbstorganisation zur Kontrolle der nano- und mikroskaligen Strukturierung von Biomaterialien steht im Fokus unserer Gruppe. Selbstorganisation basiert auf einem thermodynamisch gesteuerten, autonomen Mechanismus nicht-kovalenter Wechselwirkungen zwischen verschiedenen Bausteinen. Diese "bottom up"-Bildung von Strukturen auf verschiedenen Hierarchieebenen ist inspiriert von natürlichen Prozessen, die hoch organisierte Materialien mit außergewöhnlichen Eigenschaften wie Knochen, Muscheln oder Spinnenseide ermöglichen.
Beispiele für unsere Forschung sind DNA-Protein-Hybridkonstrukte auf Basis von rekombinanter Spinnenseide und definierten Nukleinsäuresequenzen, sowie Fusionsproteine. Die DNA-Protein-Hybride nutzen die Vorteile von Nukleinsäuren, die sich mit Präzision und Vorhersagbarkeit selbst zusammensetzen, z.B. bei der Programmierung und Faltung von DNA-Origami, und von Spinnenseidenprotein, das sich zu Nanofibrillen mit hoher Umwelt- und Chemikalienstabilität sowie mechanischer Steifigkeit zusammenfügt. Bei den Fusionsproteinen bringen wir mit Hilfe von genetischen Fusionen neue Funktionen in die selbstorganisierende Spinnenseide ein. Durch die Steuerung des Fusions- und Assemblierungsprozesses bleiben die strukturellen und funktionellen Eigenschaften erhalten.
Durch unsere Forschung verfolgen wir die Entwicklung komplexer nano- bis mikroskaliger Materialien mit kontrollierter Ergänzung von Funktionalitäten wie Ligandenbindung, Katalysator und/oder Lichtemission. Dies ermöglicht die Entwicklung neuartiger nanostrukturierter und hierarchisch geordneter Materialien für die Entwicklung innovativer Verbundwerkstoffe.
Research Projects
Dr. Humenik, Martin
martin.humenik(.at.)bm.uni-bayreuth.de
0921-55 6725
DNA-Protein Hybride
Nucleic acids could self-assemble into many different nano-structures with precision and predictability, which is unrivaled among the natural and synthetic materials. One of the best example for such high fidelity is represented by the DNA origami programming and folding. On the other hand, recombinant proteins, which we are focusing on, also self-assemble into nanofibrils, supramolecular structures of densely packed cross-beta sheets. Such fibrils, typically 10 nm in diameter and hundreds nanometers long, possess high environmental and chemical stability as well as mechanical rigidity. Such systems are represent attractive scaffolds for creation of ordered nanomaterials.
To take advantage of both, protein and DNA materials, we chemically combine recombinant spider silk and nucleic acids in hybrid entities. We investigate fundamental properties of the protein hybrids to realize their utilization in materials research. We study new chemical modifications and conjugations of the building blocks, arrangements protein moieties upon hybridizations of DNA, corresponding morphology and structure of conjugate fibrils. Further, we use specific DNA hybridization to trigger self-organization of the fibrils into hierarchical structures.
Fig. 1: Self-organization of DNA-protein hybrid materials in bottom up manner in solutions: Spider silk moieties in the hybrids, prepared by a chemical conjugation with DNA, were spatially arranged into branched structures using designed DNA hybridization and self-assembled into ribbons, which further self-organized into micro-rafts due to DNA interaction at specific temperature gradients.
Fig. 2: Pattering of the hybrid materials using DNA-directed hybridization technology: Surfaces modified by capture DNA were specifically linked to complementary DNA-spider silk conjugates on defined position using micro-contact printing technology. Immobilized conjugates served as nucleation sides for silk fibrils growth from the surface.
Dr. Humenik, Martin
martin.humenik(.at.)bm.uni-bayreuth.de
0921-55 6725
Fusionsproteine
We introduce new functions to the self-assembling spider silk domain using genetic fusions. As an example, GFP was successfully fused on the C-terminus with the recombinant spider silk. Both moieties, the silk and the GFP, retained native structures in the fusion as well as respective properties, the self-assembly of the silk in to fibrils and hydrogels as well as fluorescent activity of the GFP.
Fig. 3: Functional protein hybrids prepared by fusion of globular and structuring moieties. Schematic representation of GFP (1EMA) fused to the spider silk eADF4(C16). The protein self-assembled into fluorescently active nanoscopic fibrils, which were processed into hydrogels.